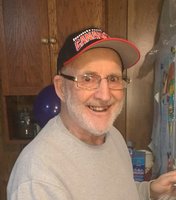 Reginald Rehill
Reginald Keith Rehill, 85, of Westville, passed away on Sunday, April 18, 2021 in the Aberdeen Hospital, New Glasgow with his wife by his side.
Born in Calgary, he was a son of the late William and Gwen (Rose) Rehill.
Reg grew up in Alberta and worked as an engineer/draftsman for the City of Edmonton. Upon his retirement he moved to his wife's hometown of Westville. Reg enjoyed his summers at Seafoam Campground meeting and enjoying many friends. He was a member of the Royal Canadian Legion Br. #34 where he was on the dart and curling teams. Reg loved his sports, especially hockey, golfing, fishing, and curling and was a member of the Westville Curling Club.
He will be sadly missed by his wife Diane (Halliday); sons, Dan (Kathy), Tim (Lee), and daughter Cheryl; stepdaughter Denise Karhut (Gerry) ; stepson Leigh Henaut; grandchildren Mike (Corinne) and Ryan (Danielle); Cabe and Nolan; Alex and Tylor (Stephanie); and Ben; 2 great grandchildren Hailey and Braydon; and sister Esme. He is also survived by brothers and sisters-in-law Allie Halliday (Margie); John Halliday (Gloria); Rick Halliday; Dawn Matheson (John Lennon); Shelley Clyburne (Doug), Susan Halliday; many nieces, nephews, special grand niece Charlee; and special companion Marley.
He was predeceased by brother Donald (Joan); father and mother in law Cecil and Mary Halliday; nephews Rick Schow and Randy Rehill; brother in law Billy Halliday; and grand niece Layla.
A special thank you to the V.O.N. and Aberdeen Palliative Care Staff for the care you gave to Reg.
There will be no visitations or funeral service by request. A cemetery committal service will be held 1 o'clock Saturday at St. Bees Cemetery, Westville. Social distancing and masks are required. Donations in his memory may be made to the Aberdeen Hospital Palliative Care, the V.O.N. or the Pictou County S.P.C.A.