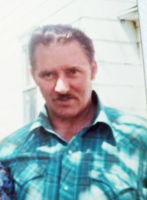 Bobby Robson
The death of Robert Kenneth "Bobby" Robson, 86, passed away on Wednesday, May 26, 2021 at his home with his family by his side.
Born in New Glasgow on November 15, 1934, he was a son of the late Norman Kenneth and Katherine Robson of Piedmont.
Bobby mostly worked in the woods and also worked in Ontario for a brief time before returning to Nova Scotia. He enjoyed singing, watching boxing and tinkering with his cars. Bobby had a great faith and enjoyed attending United Pentecostal Church, Stellarton.
He will be dearly missed by his wife Muriel (Mason); children, Susan Davis (Ken), Norman Robson (Cathy), Charlene Robson, Kimberly Robson (Rudy Klutskow), Sharon Robson Duplessis, Robert Robson, Thomas Robson, and Dolly Robson (Alex Eisenhauer); 3 grandchildren, Brittany Robson (Andy Campbell), Chelsey Robson (Norman Ferguson); great grandchild Sean Robson; and well as 28 other grandchildren; 41 great grandchildren, and 1 great-great grandchild.
He was predeceased by grandson Robby Robson; and infant great grandchildren Chloe and Marissa.
Due to Covid restrictions there will be no visitation. A private funeral service will take place.