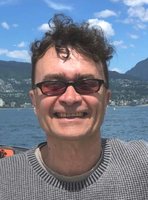 Chuck McDow
Our family is deeply saddened by the sudden passing of Chuck on June 7, 2021 in his happy place, the cottage in Cape John.
Born in Dartmouth, he was the son of Charlotte (MacRae, McDow) LeGrow and the late J. Robert McDow. Besides his mother, Chuck lives on in his daughter, Jennifer Van Lankveld and his sister, Laurie (Max) White. He was proud Grandpapa to Mik and Maddy and Uncle to Katy (Scott) Ryan and Sarah King. Special friend to Brian Slatford, Liane Cooke and John Hirtle.
Over his 60 years, Chuck made strong connections with people through work and play, living in Toronto and Montreal before coming home to Nova Scotia. He was a dependable hard worker, thoughtful, charismatic and full of life. Chuck appreciated the finer things in life, like great food, a well set table, the sun on his face and a drink in his hand. Entertaining family and friends was second nature. His family, friends and pets were what he held dear.
He will be forever loved and missed by those who knew him.
As per Chuck's wishes, there will be no funeral service but rather his ashes will be scattered at the cottage during a Celebration of Life ceremony at a later date. In lieu of flowers, donations in Chuck's name may be made to your local animal shelter or charity of choice.