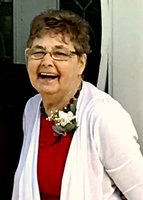 Freda Cameron
Freda Helen Cameron, 80 of Central West River occurred on Friday evening, June 18, 2021 in Glen Haven Manor, New Glasgow.
Born in South Lochaber on February 23, 1940, she was a daughter of the late Jeffery and Susan (Malloy) Mason.
Freda will be dearly missed by her husband Daniel "Donnie" Cameron; children Aubrey Cameron, Central West River; Harlen Cameron (Cindy), Central West River; Isabel MacCallum (Robert) , Medicine Hat, Alt.; Cathy Cook (Donnie), Woodburn; Jeff Cameron (Sharon), Stayner, Ont; grand children Sydnie and Marla Cameron; Daniel and Adam MacCallum; Ryan and Nikki Cook; Courtney and Brandon Cameron as well as 12 great grand children. She is also survived by sisters and brothers, Muriel Robson, Margie Mason (Doug ); Freddie Mason (Lynn); Charlie Mason (Florence) ; Betty Mason and Wanda Mason; and sister in law Matilda Shea.
She was predeceased by her daughter-in-law Mary Pineau; brother Harlen Mason, sister Marilyn MacEwan and brothers-in-law Tom and Ross Cameron and Bobby Robson.
A special thank you to the Drs. and Staff of Glen Haven Manor for the special care they gave to Freda.
There will be no visitations or funeral service at this time. Services will be held at a later time when restrictions allow.