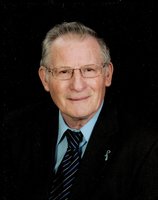 Graham Carson
Graham MacLean Carson 87, of Munro Avenue Extension, New Glasgow passed suddenly at home on June 16, 2021.

Born in Rockfield, Pictou County, Graham was the son of the late William and Jennie (Graham) Carson.
Losing his father at age 16, he worked on the family farm before learning the meat cutters trade. Starting his career on the Westville Road at Harold MacKay's Meat Shop, he transitioned into his role at the IGA grocery where he worked for decades as Manager of the Meat Department. Upon closure of this store, Dad finished his working career with Harold Ferguson of Bayview, retiring at the age of 73 years. Harold gave our Dad a fresh start and many years of happiness working with new friends and colleagues.

A long time member of St Paul United Church – over the years, he taught Sunday School, and was a member of many committees including Board of Stewards and most recently a long time member of Session.

Graham is survived by son, Earle (Karen) Carson, Westville; daughter, Colleen (Mike) Richard, Dawson Creek, BC; grandchildren, Karlee and Matthew Carson and Nicholas and Emily Richard. He is also survived by sister, Willena, Westville; sister-in-law, Olivia (James) Cameron, Hazel Glen; brother-in-law, Tom Stewart, Westville, nieces and nephews, Betty Cameron, Doug (Cathy) Cameron, Alex (Sheila) Cameron, Carrie Stewart and Luke Stewart.
He was predeceased by his wife Patricia "Pasty" (Stewart) and brother Robert.

A Resident of Munro Avenue Extension for over 50 years he was surrounded by countless wonderful friends and neighbours, he had a special bond with his buddy next door, Mike Sullivan. Dad lived on Munro Avenue but home was always in Rockfield, his family homestead, planting gardens, hauling logs from the woods. Enjoying nature was where he was in his element. He would take a break to fish with the grandkids who were his pride and joy.
A quiet, hard-working, loving husband, father, grandfather, uncle and friend who always wanted to help and make life better for those around. He will be missed by us all.

His funeral service was held 11 am, July 30 from St. Paul United Church with the Rev. Dr. Mary Taylor officiating.
Donations in Graham's memory may be made to St. Paul United Church or a charity of your choice.