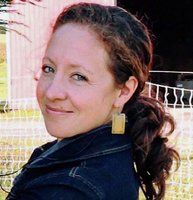 Rachael McLean

It is with heavy hearts that we announce the passing of Mary Rachael McLean on June 28th, 2021. In her final moments, Rachael was surrounded by love and family in her home.

Rachael's greatest joy was being a Mom. She loved her partner Glen Wadden, their two boys Logan and Felix and their home in Lovat. She was fun, had a quick sense of humour and possessed boundless energy. She took delight in being with those she loved the most – her family, friends and her puppy Dug.

As a landscape architect, Rachael loved nature and design. She was creative and passionate about building accessible spaces that not only celebrated its natural beauty, but also brought people together. She was a community builder who took pride in taking on, and supporting projects and people, that made Pictou County better. Rachael loved music and singing in her church and community choirs.

She is the daughter of Barbara MacLean and John McLean of Green Hill; her sisters; Emily and her husband Ryan, Sarah and her husband Don, niece Grace and nephew Nolan. She is survived by her maternal grandmother Mary MacLean, her uncles and aunts, Lloyd and Gwen MacLean, and Elizabeth MacLean and Jim Cruickshank; her Cousin Kate MacLean and Curtis Murphy. On the McLean side of her family, Rachael's aunts and uncles include Susan McLean, Shelley Cullen, Sherri Duggan, David McLean, and Paul McLean and her many cousins.

Her in-laws are Ken and Wanda Wadden of Green Hill; Darren and Lisa Wadden, nephews James and Luke; Gail and Randy LeBlanc, nephew Carson and niece Rowan.

Public visitations will be held at Eagles Funeral Home in Westville on Friday, July 2, from 2-4 p.m. and 7-9 p.m. Masks and social distancing are required. A private family funeral will be held and a Celebration of Life will take place at a later date.

Rachael was extremely courageous and determined throughout her health journey. Rachael was, and her family is, deeply grateful for the compassionate medical care she received. Her strength and optimism have been and will continue to be an inspiration to all those who loved her.