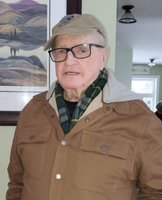 Brian McCormack
Brian Thomas McCormack of Lr. Mount Thom, NS, passed away on August 6, 2021, at the age of 87.
Brian was born to Thomas and Ursula (Bohan) McCormack on May 30, 1934 in Cowansville, Quebec.
Brian grew up in Grand Falls NB and started his career in the Air Force at age 17. After his time in the Air Force, he went on to train as a welder in Toronto and worked at various jobs across Canada and the United States. He became a member of the United Association of Plumbers, Pipe-Fitters & Welders, Local 244, and retired from TrentonWorks Ltd. He met his wife, Annette (Walston), in Prince Albert, Saskatchewan, and moved to his beloved home in Lr. Mount Thom, where they raised their family and welcomed many guests from far and wide. Brian was a passionate blueberry farmer and was active in the blueberry community. He enjoyed many field days with fellow blueberry producers. He was known for his quick wit and had a passion for lifelong learning. In his personal time, he enjoyed novels, crossword puzzles, music, art, baseball, and rambling backcountry roads. Anyone who travelled with Brian knew they would take the scenic route. He enjoyed many Saturday mornings with his friends at the A&W. He loved to travel and especially visiting his son in Colombia.
He is survived by his wife Annette (Walston) of 50 years, his sister Mary Horton and four children, Rosemary Pettipas (Bruce), Heather von Kintzel (Mark), Thomas (Monica), and Clover King (Mike), 10 grandchildren; Keira, Basil, Ava, Meadow, Bohan, Violeta, Callum, Augustine, Beckett, and baby Maximilian.
The family will receive visitors at Eagles Funeral Home, Westville, on Wednesday, August 11th from 6-8 p.m. and Thursday, August 12th from 6-8 p.m., however due to limited numbers allowed by public health, preregistrations to attend the visitations are required with social distancing and masks. To pre-register please call 902-396-4144 . A celebration of life will be held at a later date.