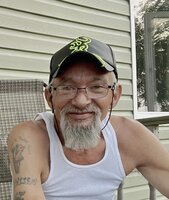 Dougal "Leon" Marshall
Dougal Leon Marshall, 55 passed away Sunday August 15, 2021 in Halifax, Nova Scotia. At the time of passing, Leon was surrounded by those he loved and cherished.
Leon was the husband to Denise they shared 20 years of love and laughter together.
Born in Truro, NS he was the son of Florence (Howard) Beck and the late Dougal Alexander Marshall.
He worked at the Axle handle factory for many years but his true love and passion was with a chain saw in the forest.
Leon's life revolved around his family and the outdoors. He enjoyed spending time with his kids, grandchildren, great grandchildren, nieces and nephews, passing along many of his hunting and fishing tricks.
He is survived by wife Denise Coady; his children Amanda (Glen), Cynthia (Shawn), Nicky (Corey), Tanya, Leon, Bobby (Julia) and Travis (Nicole); his sisters, Sandra, Sonya, Betty, Lisa; grandkids Dylan, Madison, Alexander, Cymbria, Anaya, Lily, Zeda, Jayce, Penny, Katie, Kevin, Kelsi, Brooke, Haleigh and Shylar; great grand kids Grayson, Rowan, Laila; and many others.
He was predeceased by his grandmother Cynthia Daniel, his father Dougal Alexander Marshall, and his son Ryan Coady.
Leon is resting at Eagles Funeral Home, Westville where his family will receive visitors on Thursday, August 19, from 2-4 p.m., however due to limited numbers allowed by public health, pre-registration to attend the visitation is required with social distancing and masks. To pre-register please call 902-396-4144 if you wish to attend.
A private funeral service (invitation only) will be held and will be streamed live to the public at 1 p.m. Friday and may be watched by clicking this link https://youtu.be/6OsUR_f32rs