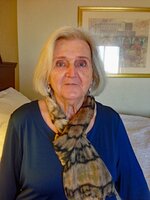 Joan Fortune
It is with peace that we announce the passing of Joan Fortune (nee Smith).

Joan will be greatly missed by her children, Graham (Kathy), Sandra and Leanne, by her grandchildren Jason (Kenda), Sarah-Jane (Jason Smith), Matthew (Judy), Adam and Emanuel. Also by her great-grandchildren Kaia and Leila Smith and Brodie and Gavin Fortune. She will be deeply missed by her numerous Smith cousins.
She is survived by her sisters Helen Ryan, Doris Best, Isabel Jackson and Carla Wolski.
Joan was predeceased by her husband, Ralph Wilson Fortune..
A special thank you to Dr. Gergor MacLean and the Pallitave Care Staff for the care given to Joan.

The family requests in honour of her memory, a random act of kindness be performed in her name. A memorial service will be held at a later date.