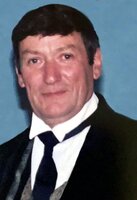 Dick Lees
Richard Earl "Dick" Lees, 84 of Durham, passed away on Monday, August 23, 2021 in Debert Court with family by his side.

Born in Union Centre on December 9, 1936, he was a son of the late George and Agnes (MacDonald) Lees.

Dick became an Optician at the age of 17, first working with Imperial Optical. He eventually owned and operated is own company, Prism Optical and continued his optical career until his early 70's. Enjoying working with animals, Dick also operated a farm in Durham. He was a past member of the West River Fire Department.

Dick will be sadly missed by children; Mike (Heather), Lyons Brook; Troy (Cheryl), Central West River; Kimberly Watters (Andrew), Durham; Jackie (Heather), Durham; and Mandy Lees, Alberta; chosen son Mike Hasler (Belinda), Thorburn; grandchildren, Jessica and Amy; Sarah-Jean and Matthew; Alex and Kent; Savannah and Dawson; Ashley and Michael and great grandchildren, Layne, Orin, Sage, and Willow; Simon, Isaac, Blake and Lyla ; Aurora and Silas; and Rowan and Wren. He is also survived by sister Dorothy Langford, North Bay; brothers, George, Millbrook; Gerald (Elsie), Westville; sister-in-law Violet Lees, Riverton and many extended family.

He was predeceased by his wife Jean (Marcipont) and brother Donald.

The family wishes to extend special thanks to his home care givers and the staff of Debert Court for all their care.

There will be no visitations or funeral service by Dick's request. Interment will be held at a later time . Donations may be made to a charity of one's choice.