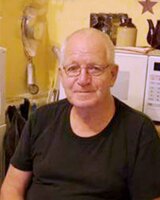 Jimmie LLoyd
It is with great sadness we announce the death of Jimmie Donald Lloyd, 76yrs of age lived in Trenton, formerly of Westville on Tuesday, August 31, 202, in the Aberdeen Hospital with his family by his side.
Born in Westville on September 6, 1944, he was a son of the late Daniel and Mary (Dowell) Lloyd.
Jimmie worked for a brief period at the Drummond Coal Mine before becoming an auto mechanic working at Ellard Irving garage, Jim Battist and later with Atlantic Motors. Jimmie was a very hard working person and enjoyed having family outings and family barbeques. He was giving and understanding and he loved his family very much, and was loved and well respected by many.
He was a man of faith who enjoyed attending Christian Fellowship Church where he also was an usher for many years. He was an excellent hunter and an extraordinary sport fisherman and he enjoyed playing darts and won many awards while playing.
Jimmie will be very dearly missed by his wife Linda (Dawson), son Jamie, West River; daughters Shannon Lloyd, New Glasgow and Carrie MacNeill (Randy), Pictou; grand children, Jamie and Meranda Lloyd; Riley and Kaleb Lloyd; Gage and Cain MacNeill; Great grand children, Lucas, Levi, Lily, Emmarie and Spencer.
Jimmie had one older brother Danny and six sisters Nellie, Jean, Elaine, Betty, Patsy, and Sandra and Jimmie had many nephews and nieces he dearly loved them all.
He was predeceased by a sister Ann and brother Kenny he loved very much.

There will be no visitations or funeral service held.