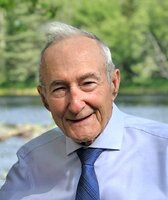 Raymond Cyr
It is with heavy hearts that we, his family, announce the passing of J.W. Raymond Cyr, age 90, of Westville. On September 1, 2021, at the Palliative Care Unit of the Aberdeen Hospital, New Glasgow, Raymond crossed over, in unity with the Holy Spirit, surrounded by his loving family.

Born on April 20, 1931, he was a son of the late Alphonse and Rose Cyr.

Raymond was raised in Pictou, graduated high school from Pictou Academy and attended St. Francis Xavier University, Antigonish, receiving his BA in 1958 and his BEd in 1960. He also received a Post Graduate Degree in Education from the University of New Brunswick and continued his academic studies at Laval University, Quebec. Raymond began his career with a one-year term in Shelburne, NS and spent the rest of his teaching years as a Senior French Teacher at West Pictou District High School. He taught at West Pictou from the first day the school's doors were opened until his retirement in 1991.

Raymond was proud of his school and his students, and he would always say that the students of West Pictou were the "best" because they were full of school spirit. He shared his passion for learning with hundreds of teenagers over the years. Raymond enjoyed his job and always taught with an air of dignity and mutual respect.

Raymond was a devoutly religious man and a long-time member of the Holy Name Catholic Church, Westville. He taught Sunday school and became the Co-ordinator of Religious Education Classes at the Holy Name. He was also past president of the Holy Name Society, a member and past president of the Westville Rotary Club, a member of the Knights of Columbus, New Glasgow, and a volunteer for the Pictou County Foodbank. Raymond enjoyed being an active member of society and helping his community.

He had a very compassionate nature and a curious mind. He was never afraid to ask a question, and even if he did not like the answer or if he did not share the same view point as you, he always made a sincere and empathetic effort towards understanding.

A loving husband, father, and grandfather, Raymond's greatest pride and joy were his children and grandchildren. He loved spending time with them, watching them grow up and marvelling in their accomplishments.

Raymond enjoyed spending his winters with Lorraine in Florida, a good game of golf and a nice glass of red wine on occasion. He had a great sense of humour, was always chosen to say grace at our family gatherings, had a love of seafood and a zest for life that comes directly from being a Maritimer. His favourite songs were Frank Sinatra's "(I did it) My Way" and Al Martino's "Daddy's Little Girl". He exuded patience, kindness and good will; Raymond was a true gentleman.

Raymond is survived by his best friend and the love of his life, his wife of 57 years, Lorraine (Doucette), Westville; his son: Raymond Paul (Marla), Fort Myers, FL; his son-in-law: Donnie Dooley; his grandchildren: Lucas Dooley (Katie), Grand Prairie, AB; Jessica Dooley (Jamie), Trenton; Renee Cyr, Boston, MA; and Marc Cyr, Fort Myers, FL; his brother: Louis Cyr, Pictou; his sisters: Doreen Slaunewhite (Jim), and Irene MacDonald, both of Halifax; his brothers-in-law: Robert Doucette (Sharon), Fredericton; Mike Doucette (Carol), Truro; and David Eagles, Westville; his sisters-in-law: Gertie Cyr, Halifax; Carolyn Cameron (Dana), and Janet Doucette, both of Westville; his special nephew: Kevin Doucette (Anita), Halifax; and many nieces, nephews, cousins and friends.

Besides his parents, Raymond was predeceased by his daughter, Janice Dooley; his brothers: Joseph and Arthur Cyr; his mother-and-father-in-law: Edmund and Kate Doucette; his brothers-in-law: Fred Doucette, Ed Doucette, and Ron MacDonald; and his sisters-in-law: Helen Doucette, Ann Doucette, Dorothy Doucette, and Sylvia Eagles.

We are very grateful for the support of the Palliative Care Team and the 4th floor nursing staff of the Aberdeen Hospital. Thank you for your kindness, caring and compassion.

Raymond is resting at Eagles Funeral Home where a private visitation will be held. A public funeral service will be held at 11 am Tuesday from The Church of The Holy Name , Westville with Father Peter MacDonald officiating. Registration will take place at the entrance of the Church. Masks are require with NS Covid Regulations in place. Donations in his memory can be made to the Aberdeen Hospital Palliative Care Unit or to the Pictou County Foodbank.
His funeral service will be streamed live to the public and may be watched at the Facebook page of Stella Maris -Holy Name Church.

Raymond will be sadly missed and affectionately remembered by all of us who love him.