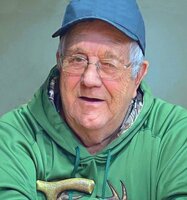 John Bourque
We are heartbroken to announce the sudden passing of John Procule Bourque on September 4, 2021 with his family by his side, the same way he lived his life.
Born August 16, 1946, John was a loving husband, father, grandfather, great grandfather, brother and uncle. He was a coal miner starting in the MacBain mine at the age of 16, moving on to the Drummond mine and retiring in 1995 from Pioneer Coal. John was an avid hunter and fisherman enjoying both with his son and brothers. A hard working man, his family was the center of his life.
John will be sadly missed by his wife of 54 years Marie (Jones); children, Cindy Hayman (Tyke Patchett); Kim Davidson (Scott ), Johnny Bourque (Tammy) ; grandchildren, Taylor Hayman (Chad Unreiner), Carlee Bourque (Wade Tibbo), Cassidy Hayman (Leon Lawlor), Johnathan Bourque (Michaela Holly), Madelyn Bourque (Robert Burrows); and Gavin Bourque; great-grandchildren Kalem, Cohen, Alivia, Henry and Brody; sister Theresa Darroch (Kevin) and Jean Stewart (Edison); sisters-in-law Belle Bourque, Donna Bourque, Mary "Cookie" Jones; brothers-in-law John Jones (Donna), A.J. Jones (Lorraine), Frank Jones, Alan Jones, Sandy Jones (Tammy), and Art Evans; and many nieces and nephews.
John was predeceased by his parents Fred and Emma (Vigneault) Bourque; sisters Patsy and Junie; brothers Joe, Jim, Fred, Tommy, Bernie and Michael in infancy.
The family would like to express our heartfelt gratitude to Pictou dialysis unit, his special friend Jen Clark, RN, and his travel partner Jim Izzard. Special thanks to the ICU Aberdeen Hospital with eternal thanks to Robin Fraser, RN for all your care and compassion, it will never be forgotten.
A private funeral service(invitation only), will be held from the Church of the Holy Name, Westville with Father Peter MacDonald officiating. His funeral service will be streamed live to the public and may be watched on Wednesday at 11 a.m. at the Facebook page of Stella Maris -Holy Name Church.