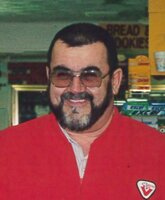 Harvey Avery
It is with heavy hearts that the family of Harvey Avery, 82, of Munro Avenue, New Glasgow, announces his passing on September 9, 2021 at the Aberdeen Hospital. He was the widower of Catherine "Edith" Avery (Johnstone).
Born in New Glasgow, he was the son of the late Stephen and Jennie (Mannett) Avery. He attended New Glasgow School. He was employed over the years with Cooks Transfer, Trenton Car Works ending his career of 30 years with Vachon.
Harvey was a member of Trinity United Church and a member of Knights of Pythias Liberty Lodge #22. He loved fishing, hunting, bowling and spending time with his family. He will be remembered for his unconditional love and willingness to always lend a helping hand.
He is survived by his children, sons Harvey "Sam" (Barbara), Hopewell; Herbert, at home; his grandchildren Carolee and Stephen "Sam Jr."; sister in law Isabel Higgins, Doreen Johnstone, and Patsy Dee; along with many nieces and nephews.
Harvey is predeceased by his wife Catherine "Edith" (Johnstone); parents Stephen and Jeannie Avery; sister Pearl Vaschol (Garfield); brother Donald Avery (Jean); father and mother-in-law William and Margaret Johnstone; sister-in-law Eleanor Darroch (Earl); brothers-in-law Herbert Higgins and Gordon Dee.
At this time the family would like to say a special thank you to Dr. Adam Harris, Dr. Campbell, Dr. Berry, and Dr. Berry's intern ER nurse Jan at the QEII Emergency Dept. Your compassion and care that you showed us will never be forgotten, to Emerg. Dept. Aberdeen and nursing staff of 4 South (Medicine), especially Amy, Katelyn, Kailee and Darla, you made what was on unimaginable time so much easier. Thank you to all from the bottom of our hearts, and a very special thank you to Dr. Rivera and Donna for all your wonderful care over the years. ~ The Avery family.
Visitation will be held on Wednesday Sept. 15 from 2-4 pm and 7-9 pm at Eagles Funeral Home. Westville. Masks are required. The Knights of Pythias Lodge will conduct a service at 6:30 Wednesday at the Funeral Home. A public funeral service will be held at 11 am Thursday at Eagles Funeral Chapel with Rev. Dr. Glen Matheson officiating. Masks arerequired. The service will also be streamed live and may be watched by clicking on https://youtu.be/aZRYy-g72bc Interment will be in the Auburn Cemetery.
The Broken Chain
We little knew that day,
God was going to call your name.
In life we loved you dearly,
In death, we do the same.
It broke our hearts to lose you,
You did no go alone,
for part of us went with you,
The day God called you home,
You left us beautiful memories
Your love is still our guide,
And although we cannot see you,
You are always at our side
Our family chain is broken,
And nothing seems the same,
But as God calls us one by one,
The chain will link again,
-Ron Tranmer