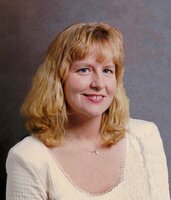 Patricia "Patsy" DeYoung
It is with great sadness that we mourn the sudden passing of Patricia Maureen DeYoung, 54, of Westville on September 7, 2021.
'Patsy' is survived by her husband, Clem, and beloved sons Nicolas and Clinton, all of Westville. She is also survived by sisters, Debbie Cormier, (Walter) Westville; Mary Duggan, Fredericton; Bobbie Vint, Westville; Brenda O'Brien, New Glasgow; Sandra O'Brien, Sydney; and brother Stephen O'Brien, St. John. Patsy is also survived by long-time friend, Lillian Crosby, and will be greatly missed by her feline best friend, 'Stubby'. She was pre-deceased by parents Robert and Doris (Fraser) O'Brien, Westville, and sister Barbara O'Brien of New Glasgow.
Patsy was a devoted mother to both her sons as was evidenced by her intense dedication to them and her strong family ties. Her sense of humour was one of her most endearing qualities and it was something everyone commented on. She could laugh at herself and with others as well. Some of her funnier moments made a dire situation seem far less solemn.
Patsy was a long-time employee of the Westville Medical Clinic where she enjoyed helping people and would go to great lengths to assist anyone in need. This was particularly demonstrated when she supported her sister, Barbara, during her recent illness and passing.
Early in their marriage, Patsy and Clem initiated their own logging company. With Clem's knowledge and hard work, as well as Patsy's talent for accounting and transactional skills; it was built into a successful business. Patsy was an avid gardener always taking pleasure from the butterflies, bees and birds that her plants and trees attracted. Often commenting that she'd be content living in the woods, she was at her happiest when she felt tuned into nature. She absolutely loved her homes with surrounding wooded areas where she marveled at the songbirds, owls, eagles and hawks. Here she would feed and watch the deer admiring their beauty. Observing birds, foxes, squirrels, and even bears brought her such joy and entertainment. Patsy also had strong attachments to domestic animals and treasured all of her pets- past and present.
As per Patsy's wishes, there will be no service. Donations can be made to the SPCA or Summer Street Industries.