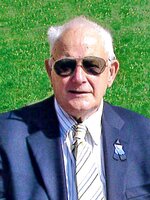 Bill MacQuarrie
William "Bill MacQuarrie, 90 passed away peacefully at Ivey's Terrace Nursing Home on Saturday, October 23, 2021.
Born in Westville on October26, 1930, he was a son of the late Archie and Janet "Lena" (Boehk) MacQuarrie.
Bill worked for the Department of Highways as a heavy duty mechanic for many years.
Bill is survived by his five children, Ricky, Lochbroom; Norman, Saskatoon, Sask; Judy Beatch (Moe), Regina, Sask; Peter (Sherry), New Brunswick; Dawn MacQuarrie (Jack Robertson), Lochbroom, 12 grand children and 15 great grand children. He is also survived by sisters, Peggy Kontuk, Stellarton; Carol Ann Horton (Tom), Pictou Landing and brother Neil, Pictou.
He was predeceased by his wife Gladys (Pearce) and sister Isabel Dowell.
There will be no visitations or funeral service. A graveside service will be held at a later date at Heatherdale Memorial Gardens. Donations in his memory may be made to the N.S. Heart and Stroke Foundation.