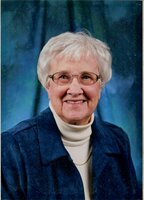 Mrs. Jean Fraser
Mrs. Jean Fraser, age 97 years, of Westville, died peacefully on Monday, November 15, 2021, in the Aberdeen Hospital, New Glasgow.
Born in New Glasgow April 3, 1924, she was the daughter of George W. and Elsie M. (Greene) Sinnis.
Jean received her teaching diploma in 1943 and started her career in a one room school house. After marrying in 1945, she continued to teach while her husband finished medical school. In 1952 they moved to Westville where she dedicated her life to supporting her husbands medical practice and raising three children. She was an active supporter and devoted member of St. Bees' Anglican Church, teaching Sunday school and playing piano and organ during services for a number of years. She enjoyed spending time with family and friends, travel, music, baking and "Murder She Wrote". Her greatest wish was that she would never have to leave the house that Henry built for her. She got her wish.
She is survived by her two sons, David (Kathryn), Royal Leamington Spa, England, and Robert (Janie), St. Catharines, Ontario; brother Douglas (Jean) Sinnis, Riverton; son-in-law Michael Howlett; four grand children, Christopher Fraser, Erin (William) Klassen, Christopher (Jessica) Howlett and Allyson Howlett, and 7 great grandchildren. She is also survived by her sisters-in-law Betty Sinnis, Carrie Higgins and Diane Brown, along with many nieces and nephews.
Besides her parents, Jean was predeceased by her husband, Dr. John Henry Fraser, her daughter, Jane Howlett; sisters Eva McLeod and Helen McGrath-Michaud and brothers Gerald Sinnis and Elmer McGrath.
A special thank you to Sherry, Judy and Peggy for the wonderful care of our Mom, allowing her to stay in her home and making her wish come true.
Public visitations will be at Eagles Funeral Home Friday, November 26th from 7-9 p.m. Proof of vaccinations and Id as well as masks are required to attend.
Due to the COVID-19 pandemic, the funeral service will be by invitation only on Saturday, at St. Bees' Anglican Church, Westville. A private internment for family will take place at the Heatherdale Memorial Garden following the funeral service.