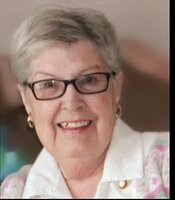 Yvonne ""Vonnie"" MacDougall
It is with very heavy hearts that we, the children, announce Mom's sudden passing on November 18, 2021. Mom is finally at peace as she wanted.

She was born in Westville, NS, April 12, 1938 and was the daughter of Amanda (Casey) and Alfred White.
Mom was the youngest of 16 children and is survived by her three children Michael, Colette (Jim) and Darren (Carol Ann) whom she loved dearly and by whom she was loved immensely; as well as her five grandchildren Joshua, Meghan, Grace, Reilly and Gabriel, all of whom held a special place in her heart. She also has one surviving sibling, Joseph (Paddy) White of Truro, NS. There are also a large number of nieces and nephews all of whom we special to her.
For many years Mom worked at the Nova Scotia Teachers' College from which she retired. She was very actively involved in Co-Op Housing in Truro, from the time it was built in 1985 until she moved back to Westville 2004. She was an avid bingo player and enjoyed many card games and Yahtzee with the family, especially Gabriel.
Upon her return to Westville, she made many friends and reconnected with old ones. We are very thankful to all the people who helped Mom in her final years. It gave us great peace knowing that she was being watched over by Bernadette and her "guardian angel", Janie. With special thanks to André, "the best landlord ever".
She was a devout Catholic, even though she could not get to Mass anymore. She watched Mass everyday and was a big believer in that "everything happens for a reason" and "the Lord will look after me". We guess she was right as she is where she wanted to be with the rest of her family.

There will be no visitation as per Mom's request. A public funeral Mass to celebrate her life will be held at Holy Name Parish, Westville on Tuesday November 23, 2021 at 2:00 p.m. Proof of Vaccines, ID and masks are required. The funeral can also be watched by visiting the facebook page: Stella Maris- Holy Name Church.

In lieu of flowers, donations can be made to Covenant House in Toronto for Homeless and Run Away Youth or a charity of your choice.