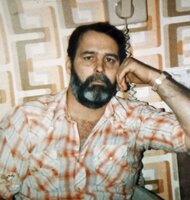 Harley Jack
With saddened hearts we announce the passing of Harley Eldon Jack, 75 years old, who passed away at home, December 5, 2021 with his wife Florence by his side.
Born in Sonora, he was a son of the late John Henry and Lottie Jack.
Harley enjoyed fishing, hunting, country drives and meeting friends at Tim Horton's each morning for coffee and conversation. Harley was blessed to have his step-children Cathy Polley (Lee), Donald Smith (Karen), Paula Smith, Laura Dexter (Quentin), Rose Smith (Kevin), Emma Smith; special grand daughter Cheyenne Grantmeyer; special grandson Malcolm Myles.
Harley is survived by his wife Florence (Hallet); his step-children; brothers, Barry (Millie), Jack (Rose), Terry (Fred); sister Charlene (Mike).
Besides his parents he was predeceased by daughter Carla; sisters Thelma, Hazel, Marie; brothers, Billy and Wendall; brother-in-law Walter Swinamer; sister-in-law Jean Jack.
He was a friend of Bills
Special thanks to Dr. Ghoreishi, Dr. Fahim and Dr. VanGraan for your compassion and care.
There will be no service or visitation at the request of the deceased.
Anyone wanting to donate to assist his wife Florence, can do so by etransfer to polley5@hotmail.com