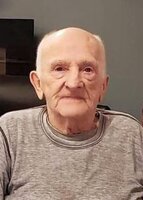 Freddie Gunn

It is with great sadness, we announce the death of William Frederick (Freddie) Gunn, age 89 of Coalburn, on Monday, Dec 20th, 2021
Born on December 18th, 1932 in East River St. Mary's, he was the son of the late William Gunn and Kathleen Reynolds, and step son of the late Carl Reynolds.

Freddie was a very hard-working man, working as a mechanic for a time and then moving on to working in the woods. He loved his family and cherished his grandchildren. He loved to sit, talk and tell stories to everyone. He enjoyed his many visits in the last few years from VON and loved to joke with and tell stories to his caregivers at Glen Haven.
He will be sadly missed by his daughter, Alice (Stephen) Connors, Alberta; son, Brian (Maria) Gunn, MacLellan's Mountain; grand children, Lindsay Connors (David Murray), Michael (Mari) Connors, Amanda (Charlie) Lyons, Alycia Gunn, Breanna (Michael) Harding and Devan Gunn; and many great grandchildren; siblings Helen MacDonald, Jean Brown, and Margaret (James) Aikens

He was predeceased by his wife, Carol Louise (Jenkins) Gunn, siblings Gladys MacKeen, brother-in-law's, Lowel MacKeen, Donnie Brown, and John MacDonald.

Cremation has taken place. His funeral service will be held 4 pm Wednesday, Dec 29th at Eagles Funeral Chapel, Westville with John Reeves officiating. Due to covid restrictions pre registry will be needed to attend the funeral service. Please call Eagles Funeral Home 902-396- 4144 to register. The funeral service will also be streamed and may be watched by clicking on this link https://youtu.be/QL8mpEkCUco
On behave of Alice Connors & Family:
We would like to express appreciation to the wonderful staff at Glen Haven Manor who provided "Gramps" with exceptional care, companionship & shared laughs. A special thank you to Brian & Maria for their continuous self-less care, advocacy & presence. "Gramps" loved a good chuckle & we're confident you all contributed to keeping his spark alive & bright right up to his passing - Alice & family.