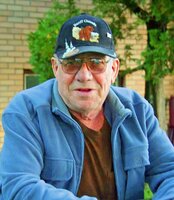 Charles "Buck" Jackson
Charles Henry "Buck" Jackson, of Westville passed away on Friday, January 28th, 2022 in the Aberdeen Hospital, New Glasgow with his family by his side.
Born in New Glasgow, on April 30, 1938 he was a son of the late Edward and Alice (Gratto) Jackson of Westville.
Buck grew up in Westville and served on the Westville Police Department before relocating his young family to Prince Edward Island where he was a member of the police force there as well. Later he moved to Lunenburg County and was a member of their police department. Once finishing his policing career he decided that working with heavy machinery would be his next career until he, his wife and youngest daughter returned to Pictou County.
Upon returning to Pictou County, Buck worked at a couple of different jobs. One in relocating houses and installing foundations and finally at Hugh E. Park & Sons lumber mill, from which he retired. He always described himself as, "A jack of all trades, master of none."
After retirement Buck enjoyed spending every day in the company of his wife. He enjoyed playing guitar and going to music nights with their friends, and watching his favorite team, the Toronto Blue Jays. After the loss of his wife, you could find Buck heading to the bingo hall with his sister Doll a couple of times a week to pass the time as well as continuing to play music with all of his musician friends.
Buck will be sadly missed by his children, Charles (Dien), Lunenburg, Clarence (Michelle), Cornwall, Kimberley, Bridgewater, Leanne MacDonald (Todd) Little Harbour; grandchildren Jennifer, Alicia and Thomas Jackson; Colleen Deveau (Zach), Cory Carver, Katelynn Carver(Jared Organ); Anthony (Brianna) and Zack Smith; step grandchildren, Brandon and MacKenzie, Jeffrey and Jenny; great grandchildren, Summer, Savannah, Jasmine, Tiana, Dontay and Vincent. He is also survived by his sisters, Doll Betts, Westville; Pearlie Blackwood, Alberta; sisters-in-law, Faye Fraser (Edwin), Millbrook; Brenda Rundle, Millbrook; Susan Rundle, New Glasgow; brothers-in-law, Tom Rundle (Tanya), Alma; Robert Rundle, New Glasgow and several nieces, nephews and cousins. Buck will also be
greatly missed by his companion Marg Rushton, Westville.
Married for 54 years, he was predeceased by his wife Roberta (Rundle); grand daughter Jessica Lantz, brothers Vernon and Silas "Deacon" Jackson; sister-in-law, Joan Jackson and brothers-in-law , Mike Betts, Skipper Blackwood and Bill Rundle.
At Buck's request, there will be no visitations or funeral. A private family burial will be with his wife in the Auburn Cemetery, Westville at a later date