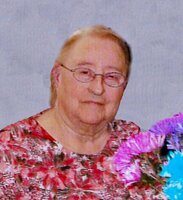 Mary MacDonald
Mary Leontine (Arkens) MacDonald, 89, of Munro Avenue Extension , passed away on Sunday, February 27, 2022 in Valley View Villa.
Born in New Glasgow on November 10, 1932, Mary was a daughter of the late Gerard and Mary (Wojcik) Arkens.
Mary had been employed at Cameron and Fraser's Casket Company, New Glasgow and later Piek's Store on Westville Road. She had also been an Avon representative and enjoyed selling items at the Flea Market at the Highland Square Mall.
She will be dearly missed by her sons Barry (Veronica) and Kenneth; grandchildren, Jacob (Darcy), Amanda (George), Jenny, and Shelly (Greg); 7 great grandchildren and 3 great-great grandchildren; as well as her sister Nellie Guthro, New Brunswick.
Besides her parents, she was predeceased by her husband Fulton MacDonald and brothers Gerry and Henry Arkens.
She was very proud of her family and took every opportunity to present us to others. She loved her care givers and spoke highly of all of them.
We the family, would like to take this opportunity on Mary's behalf to thank the staff at Valley View Villa, the V.O.N. Pictou County; and the staff of the Aberdeen Hospital ER and 4th and 5th floors, Dr. Jota and Dr. Elliott. Your care was so appreciated. Thank you for taking care of our Mom.
In keeping with Mom's wishes, there will be no viewing or service. Mary has been entrusted to Eagles Funeral Home, Westville. Donations in her memory may be made to the V.O.N. Pictou County