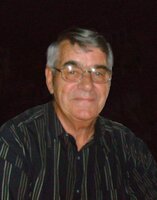 Bill Stewart
It is with great sadness that we announce that Charles William "Bill" Stewart, 83, of New Glasgow, peacefully passed away on March 14th, 2022 after a battle with Covid 19.

Born in New Glasgow to the late John "Don" and Janet "Jean" (Frosst)Stewart, of Westville.

He was the loving father of 3 sons and 3 daughters, Edison Stewart (Jeanie), Aubrey Stewart (April), Charles William "Billy" Stewart Jr. (Jennifer), Angela Tupper, Krista Quinn, and Jeannie Fraser (Eugene)
.
Bill was fiercely passionate about baseball and his family from the start and dedicated his life to both his pursuit of law (Police Force for 29 years) and his family business, Bill Stewart Metals and Bottle Exchange, Westville Road (for 28 years).
Bill put family first, and was a dedicated father. His children went on to pursue careers various fields. Bill was a strong, kind, loving, and supportive father. His knowledge and guidance was the foundation of his family.

Bill enjoyed baseball; he is best remembered for the home run blasts he launched in the old Pictou County Twilight League. What was most amazing about the big first baseman was the fact he never played organized ball until he was recruited by the Westville Miners. He was in his early 20's by this time. It is rumored (or legend) that he hit one home run so far that it went out of the park, over the road, and over the church roof at the Albion Park Field in Stellarton. He was quoted as saying" When I hit one, I knew I hit one, it felt good!" His fondest memories of those days were simply just the friendships he made with the guys.

Bill also had a great police career, being in the police force for 29 years. He started his police career at 18 years of age and gradually worked his way up to Chief of Police in Trenton. He was also the youngest (and first) plain clothes detective in Pictou County (see pamphlet at Stewart House Museum, New Glasgow.)
Bill was also very well-known and respected in the business community for 28 years. He was an entrepreneur. He was the owner and manager of Bill Stewart Metals and Bottle Exchange located on Westville Road. Bill loved providing services for the community and meeting the public. He was renowned for his hard work, kindness, honesty and integrity. Bill "Papa" had all the hall marks of a great man, father, husband, grandfather, and great grandfather and will be greatly missed by all his loved ones.

Bill leaves behind his soul mate and loving wife, Gertrude "Gertie" Stewart; sons, Edison Stewart (Jeanie), Aubrey Stewart ( April), Charles William "Billy" Stewart Jr (Jennifer) and daughters; Angela Tupper, Krista Quinn, Jeannie Fraser ( Eugene); grandchildren, Edison William Stewart Jr. (Ronda), Tracy Stewart, Rochelle Stewart (Luke), Ryan Aubrey Stewart (Ashley), Corey James Stewart, Justin William Stewart ( Brittany), Braiden Stewart, Jason Tupper, Dillion Tupper, and Travis Quinn. Great Grand Children; Angel, Chase, Zoey, August, Jade, Dominic, Sierra, Skylar, and Sage.
Bill was part of a very large family (9 brothers and 4 sisters) that grew up in Westville; sisters twin Helen Langille, Evelyn Shymko, Donna Gaudeaur, Zella Ferguson, brothers, Gary, Bob, Sandy, Allan, Rick , Little Joe and was predeceased by brothers Terry and Joe.

Private visitation will be held at Eagles Funeral Home in Westville on Thursday. A public funeral service will be held Friday at 2 p.m. at St Paul's United Church with the Rev. Dr. Mary Taylor presiding.
he family requests donations can be made to the Heart and Stroke Foundation, Alzheimer Society of Nova Scotia, or a charity of ones choice. Artificial flowers only please.