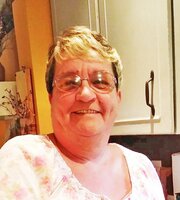 Sharon Morrison
Sharon Ann Morrison 65 of Riverton Heights, formerly of Westville passed away on Friday, March 11, 2022 in the Aberdeen Hospital.
Born in Pictou on April 23, 1956, Sharon is a daughter of Eva (Henderson) Morrison, Pictou and the late Thomas Morrison.
Sharon had worked as a restaurant waitress in Westville and later went on to Home Care until her retirement. She enjoyed the company of close friends and especially loved her pet cat "Dena".
Sharon will be dearly missed by her mother, Eva; son Sean and grandsons Gregor and Maxwell, Halifax; sisters Edna Morrison, Charlottetown; Mary Jane Morrison (Ward Dixon), Magdalen Islands; nephews, Christopher, Andrew, Dylan, Tyler, Nicholas, nieces, Cassandra, Marissa and Gracie as well as many uncles, aunts and cousins.
Sharon is resting at Eagles Funeral Home, Westville where her family will receive visitors on Friday, March 18 from 6-8 pm . Interment will be in Holy Name Cemetery at a later date.