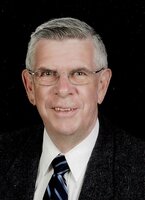 Bob Pushie
It is with great sadness that the family of John Robert "Bob" Pushie announce his passing on March 29, 2022, peacefully at the Aberdeen Hospital.
Born in New Glasgow, on February 21, 1936, he was the son of the late Munroe and Catherine Pushie.
Bob was a purchasing agent at Trenton Works for 39 years. He was a very invested and respected member of the community. He was involved with the Lion's Club and Masonic Lodge. Bob led scouts in Trenton and Westville. He was 20 years as treasurer for St. Andrew's Church in Westville and also an Elder and on the Board of Managers. He also enjoyed singing in the church choir.
Bob had a passion for music that he shared with his band members of the Pictou County Brass and Reed Band. He enjoyed many other hobbies, golfing trips with friends, curling, and watching his favourite baseball team the Blue Jays.
Our Dad had the best sense of humour. When he went on daily walks, he would often say how tired his arm was from waving to everyone. Dad was kind, loving, humble and so patient, always making us laugh and feeling loved. He was simply Dad to many. How blessed we are that he was ours.
Bob is survived by his loving companion Hilda MacLellan who greatly enriched his life; son Bob Matheson (Pat) and their children Kim and Steven; daughter Natalie Bell (Philip) and their children Jaclyn Melanson (Victor), Brittany (Justin), and Brandon; daughter Valerie Pelerine and her children Roberta Chapman (Nathan), Tanya, Kelsey (Riley); great grandchildren Kaleb and Gracie Melanson, Alanah and Dayna Chapman, Renley MacLellan, Sage Bell, Haven Matheson; and nieces and nephews, Dorothy Lane and Don Hale, Karen MacLean and Pat Hale.
He was predeceased by his wife Dorothy (Matheson) Pushie; sister Margaret Pushie and infant great grand daughter Audrey Chapman.
We would like to thank the staff of Palliative Care for providing our Dad care and comfort in his final days.
Bob is resting at Eagles Funeral Home, Westville with visitation on Friday April 1, from 6-9 p.m. His funeral service will be held on Saturday, April 2, at 11 a.m. from St. Andrew's Presbyterian Church, Westville with Rev. Gail Murdock officiating. Family flowers only. Donations can be made to what is near and dear to your heart.
"Be the things you love most about the people who are gone" - author unknown
"We will carry you with us in our hearts always."