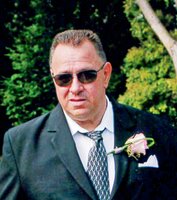 Fred Mitchell
The death of Frederick Stephen "Fred" Mitchell, 67 of Westville occurred on Monday, April 18, 2022 in the Aberdeen Hospital, New Glasgow.
Born in New Glasgow, Fred was a son of the late Frederick and Doreen (Fowler) Mitchell.

Fred first started working with Michelin Tire and later with Trenton Car Works. He was an avid sports fisherman and hunter and enjoyed his many walks he had with his granddaughter. He enjoyed barbequing for his family gatherings.

He will be dearly missed by his wife Betty (Taylor); sons, Frederick (Elizabeth); Daniel (Jennifer); daughter Ashley Phelan (T.J.); grandchildren, Maddie, Olan, and Hannah.
Fred is also survived by sisters Diane Cerezki, Susan Swinamer (Carl), Marlene Davidson (Stewart); Peggy MacLennan (Rollie); brother Brenton Mitchell; brothers-in-law Kent Taylor (Hazel), Jim Taylor (Muriel), and Paul Taylor; special cousin Elaine Chabassol; close friend Randy Matheson; and many nieces and nephews.

He was predeceased by sister Beverley Ann Green and infant sister Brenda.

There will be no visitations. His funeral service will be held Saturday, April 30 at 2 p.m. from Eagles Funeral Chapel, Westville with Rev. Dr. Glen Matheson officiating. The funeral can be watvhed live by clicking the following link: https://youtu.be/9nUYTcopC6U