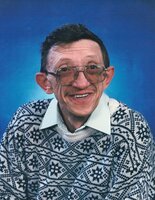 Robert Ferguson
The death of Robert "Pops" Leslie Ferguson, 73, of Westville, occurred on Thursday, May 26th, 2022 at his home.
Born in New Glasgow, on April 15, 1949, he was a son of the late Arthur and Ina (MacDonald) Ferguson, Westville.
Robert was employed with the Nova Scotia Liquor Corp for over 40 years. In his younger years, Robert was involved in Boy Scouts. His passion was the fire service and was a member of the Westville Fire Department for 30 years. Upon retirement from the Fire Dept., he became involved with the Pictou County Ground Search and Rescue. He was a member and instructor for St. John Ambulance for many years and was also a member of Scotia Lodge I.O.O.F. . Robert enjoyed CB radios, fishing and great conversations at Tim Horton's.

He will be dearly missed by step children Sheila Munroe, Abercrombie, Todd Snell, Thorburn, Robbie Snell, Westville; grandchildren, Sean Polley (Morgan), Candace Munro (Sean), Shy Polley and Ethan, Eliza, Nathan and Jared Snell; great grandchildren, Tucker, Easton, Adaline; and several cousins.
Robert was predeceased by his parents and brother Purvis.
Visitations will be held on Monday from 7-9 p.m. at Eagles Funeral Home, Westville. A public grave side committal will take place a 2p.m. Tuesday at the Auburn Cemetery with Rev. Dr. Mary Taylor officiating.