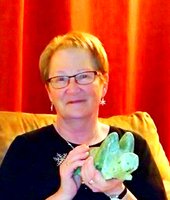 Helen MacKay
The family of Helen Augustus MacKay (Atkinson), Salt Springs, is saddened to announce her sudden passing on Saturday, July 16, 2022 at the Cape Breton Regional Hospital after a short battle with cancer.
Helen was born June 11, 1951, in Collingwood, to the late John Atkinson and Frances (Colborne) Atkinson.

Helen lived most of her adult life in Salt Springs with the love of her life, Sandy, and their son, Troy. Together they lived a simple life. She was known for her baking and love of cats. Helen worked in various roles over the years, but she always said she found her dream job when she began working as a PCW. She had a passion for caring for others and excelled in that chosen career

Besides her parents, Helen was predeceased by her devoted husband, Sandy.
Helen is survived by her son, Troy MacKay (Janet), of Coxheath, and her beloved grandchildren, Hannah (Zach) and Tyler.

Helen is resting at Eagles Funeral Home where visitations will be on Wednesday July 20 from 2-4 and 7-9 pm. Her funeral service will be held in Salt Springs at St. Luke's United Church on Thursday July 21, at 11amwith rev. Jim Webber-Cook officiating. Interment to follow in the Stillman Cemetery. To minimize direct contact due to Covid19, we ask that you consider avoiding shaking hands or physical contact with the members of the family or other guests and kindly wear a mask. In lieu of flowers, memorial donations may be made to the Pictou SPCA or the Maritime Oddfellows Home. Helen's family is deeply appreciative of the loving care and attention given to her by all of her friends over the past few months.