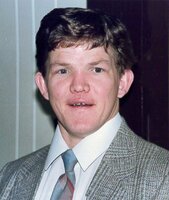 Dale Robertson
It is with incredible sadness that we announce the sudden passing at home of Dale Glenn "Lou" Robertson on Tuesday, July 26, 2022.
Dale was born in New Glasgow on November 6, 1961 to Harry and Jean (Stewart) Robertson.
Dale was a wonderful son, awesome brother to his 3 sisters, and a great uncle to their children. He will be dearly missed by all of them. He loved to go to all the seasonal events in Pictou County, dancing, socializing with friends and family, auction hunting with his long time friend Dale Malloy, and road tripping with his best friend Janie Gordon. He made lasting friendships near and far. In his younger years Dale played softball and hockey which led to his involvement in volunteering his time to both sports for a number of years including his time with the Pictou Co. Weeks Crushers. He was employed with Sobey's head office before retiring in 2016.
Dale leaves behind his mother Jean; sister Paula Dickson (Ron), their children Ashley Dickson (Mike Pushie), Brittney Sawyer (Jake), and Jordan Dickson (Alisha); sister Carla Vladovic and her children Brandon and Michaelea; sister Gina Munsie (Charlie) and their children Sarah (Yassi) and Melissa; aunt Judy Jenkins, cousins Josh and John; aunt Jeannette Robertson, cousins Peter, Sue Ellen, and Danny; chosen son Robbie Gordon; second "Mom" Madeline Palmer; chosen brother Harley Palmer; adoptive brother and sister Archie Matthews and Heather Horn; and all his "Timmie Friends".
He was predeceased by his father Harry Robertson, uncles Rollie Robertson and Walter Jenkins and his third "Mom" Marg Matthews.
At the family's request there will be no visitation. A memorial service will be held on Tuesday, August 2 at 11 a.m. at Eagles Funeral Chapel with Rev. Dr. Glen Matheson officiating. Burial will be in the Auburn Cemetery. A reception will follow at St. Andrew's Church hall. In lieu of flowers, donations may be made to the Heart and Stoke Foundation. At the family's request please wear a mask and if you are experiencing any symptoms please refrain from attending. The funeral service will also be streamed live and may be watched by clicking on the following link: https://youtu.be/URjw1-Fi36M