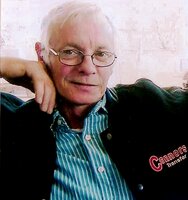 Willard MacIntosh
It is with sadness we announce the death of James Willard MacIntosh, early Saturday morning, July 30, 2022 in the Aberdeen Hospital.
Born in Alma on March 6, 1950, Willard was a son of the late Alex and Margaret (Campbell) MacIntosh.
Willard resided in Millbrook and during his working years was employed in auto repair in the local area.
He is survived by sons, Jamie (Krista), Kevin (Elizabeth), Glen (Alicia), Alex ; daughters Christine Higgins (Bryan) and Julie Laffin (Rick) several grand children and a great grand child. He is also survived by his sister Kathryn Daley (Bob); brothers Sandy (Helen), Gordon (Cathy), Fred (Debbie), Ross (Mary Clare) and brother-in-law John Hector MacKenzie, former wife Betty Ann; special friend Bill Geddes as well as many nieces, nephews and cousins.
Willard was predeceased by his parents, brother John and sister Peggy MacKenzie, infant sister Betty, niece Betty Ann and nephew Aaron.
The family would like to thank the Aberdeen Palliative Care for the outstanding care and compassion shown to Willard and his family.
His family will receive visitors on Tuesday, August 2 from 6-9 pm at Eagles Funeral Home. There will be no funeral service by request. A public graveside committal service will take place on Wednesday, Aug. 3 at 2 o'clock at Heatherdale Memorial Gardens, Sylvester with Rev. Gail Johnson- Murdoch officiating. A reception will follow at St. Andrews Church Hall.
In lieu of flowers, donations may be made to the Aberdeen Palliative Care