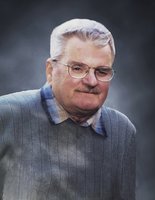 Bill Rundle
James William "Bill" Rundle 83 of , Westville passed away on Friday, October 26, 2018 in the Aberdeen Hospital, New Glasgow with his family by his side.
Born in Westville, he was a son of the late James and Annie (Gammon) Rundle.
An accountant by profession, Bill worked with various accounting firms over the years. He also was Manager of the Westville Miner Sport Complex until retirement. Bill was an avid sport fisherman and hunter and was a member of the Westville Rotary Club.
Bill will be dearly missed by his wife Gail Stewart; sons, Bob Rundle, Lower Sackville; John Rundle, Sylvester; step children Robert Snell (Gina), Westville; Todd Snell (Crystal), Thorburn; Sheila Munroe (John), Abercrombie; step grand children, Sean Polley (Morgan), Ethan Snell; Nathan Snell, Candace Munroe, Eliza Snell, Jared Snell, Sara Nolan and Michael Nolan; three great grandchildren; sisters, Betty Fitt, Oromocto, N.B.; Jean MacKinnon, Westville; Marguerite Kilburn, Westville; Elvira Enfield (Lloyd), French River; and Agnes Blair (Donald), Pictou; brothers, Jesse, Winnipeg; Sandy (Marilyn), Stellarton; Charles (Rose), Fox Brook; and Eddie (Darlene), Linacy and close friend Jack Brown, Westville and numerous nieces and nephews..
He was predeceased by a sisters Martha and Mary Morse.
Bill's family received visitors on Monday, October 29 from 2-4 and 7-9 pm at Eagles Funeral Home, Westville. His funeral was held 11 am Tuesday, October 30, from Eagles Funeral Chapel, Westville with Rev. Charles McPherson officiating. Donations in his memory may be made to the Palliative Care Society. www.canadahelps.org/en/charities/aberdeen-palliative-care-society