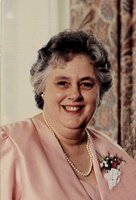 Lorna Salsman
Lorna Arthene Salsman, age 79, Tanner Hill Road, passed away on Monday, June 3, 2019 in the Aberdeen Hospital, New Glasgow, with her family by her side.
Born in Westville on September 16th, 1939 to the late Art and Lorena (Watters) Favier.
Lorna married Melvin Salsman of Tanner Hill in 1960 and followed him to Halifax and Ontario in his service with the Armed Forces. While educated as a laboratory technician, Lorna worked only briefly before staying home to raise her children. She and Mel retired to Tanner Hill in 1983. Her beloved husband of 49 years preceded her in death in 2010. She missed him every day.
Lorna's three sons, Stephen, Greg and Keven; her daughter Gayle; her son-in law, Colin Piercey; as well as her cherished grandchildren, Corey, Ashlie, Matthew and Aidan will miss her greatly.
She is also survived by her brother Tom Favier; sisters-in-law Alice Baker and Marg Berry; as well as many nieces and nephews.
Lorna was predeceased by her sisters, Wilma Eagles and Frances Ross and Mel's brothers, Ward and Lloyd.
Lorna is resting at Eagles Funeral Home, Westville with visiting from 1 to 1:45 p.m. Saturday, followed by her funeral service at 2 o'clock from the Funeral Home with Rev. Bonnie Langille officiating. Internment will be in the Auburn Cemetery, Westville.
Those she knew will remember her warmth, generosity and beautiful smile.