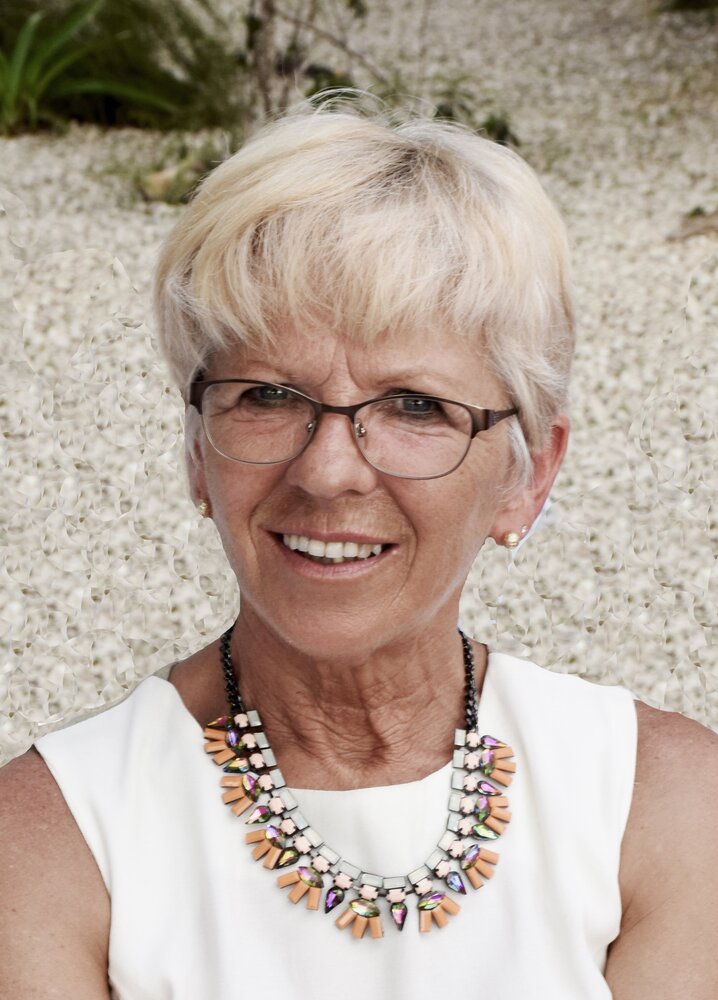 Obituary of Sandra Munro
If you are reading this you'll know that I made my exit from life on Friday, August 25, 2023. I departed from the Aberdeen Hospital in New Glasgow after a short (but it didn't seem so short!) bout of cancer.
On a day pass from the hospital on August 20, it allowed me to attend my son's wedding (Justin and Sacha) and have a wonderful waltz with him that meant so very much. The pass also allowed me to meet my new triplet grand daughters (from John and Andrea) for the very first time and it allowed me to mingle with family and friends one final time. What more can a mother and grandmother hope for. I was completed.
I had been a patient in Palliative Care for a couple of weeks. It was an experience no one should ever fear. The staff is remarkable and are very kind and loving. I feel at peace and I am ready for my next journey. I have not a regret in this world. My motto, as many of you know has always been- I'm here for a good time, not a long time.
In 1956, I was born in Ketch Harbour, NS, to Evelyn (Flemming) and James Mackey. I was the 11th of their 12 children.
A highlight in my life was traveling to Montreal with my youngest brother Peter to attend a fabulous Supertramp concert. It was so much fun, but all of the 80's were fun. In my lifetime I held only 2 jobs- 23 years with Westburne Industries followed by 23 years with Harris & Roome/Graybar. I throughly enjoyed the career I had chosen. I retired in good health in August 2021. This tells you just how quickly life can change. Besides chasing kids, my hobbies kept me busy. I loved to bake, sew, quilt and really enjoyed my wine making.
I am survived by my soul mate Clarence Decoste of Union Centre, and appreciate him for all he has done for me. Clarence was loving, compassionate, caring, funny and made a simply wonderful partner and an excellent care giver. I would never have made it this far without him. Most evenings after supper (always prepared by Clarence) we'd retire to the "Man Cave" have a few games of crib and maybe a drink or two. He would always listen to my "bragging rights" then we'd close out the evening with a bonfire, one of my most favourite things in life- summer or winter.
I lost two husbands, Bobby and Roy, both of them died on a February 5, twenty years apart 1994 and 2014. I appreciate that God didn't call me home on a 5th of any month. My first marriage was to Robert Charrier. We were blessed with identical twin sons, Justin Robert (Sacha) and Jonathan Gregory (Nicky) and a beautiful "special" daughter Katlyn Elizabeth. My second husband was Roy Munro. He brought into my life 2 incredible twin boys, John Vernon (Andrea) and Allie Fraser (Dawna). They were a wonderful addition to our family- easy to love and easy to be proud of.
I certainly reaped so many rewards. I am "Grammy" to 9 awesome and beautiful grand daughters. The last addition came this past May when my son John and his wife Andrea welcomed triplets.I am survived by 4 sisters, Myrna Williams (Ken), Lynn Giesbrecht (Jim), Evelyn Fisher (Ken), Valerie Comeau (Maurice), and 2 brothers, Thomas and Peter.
I was predeceased by a sister Elaine Gallagher and 2 brothers Ron and Bill. I also had 2 brothers who died in infancy before I came along.
Believe me when I say that I have no regrets and I wish the same for all of you when it comes down to your final days. Life was good to me. I had countless blessings. At my request (and orders!) There will be no visitation or funeral services. My final resting place will be at St. Andrew's Cemetery, Gairloch. Party for me and once in a while think of me dear folks. Be kind to one another always.
I thank God for this wonderful life and all its blessings, my soul mate, my children, my grandchildren, and all of my lovely friends and acquaintances. A big "I Love You" to my best friend Karen Marshall.
No flowers please. Donations in my memory if you wish to a local food bank.
Thank you.
Till we meet again, Love Sandi
Share Your Memory of
Sandra
eaglesfuneralhome@ns.sympatico.ca
1611 North Main St
Westville, NS

B0K 2A0


Looking for something you can't find? We make it easy to get the answers you need. Please feel free to CONTACT our professional staff for any questions or to schedule an appointment with a Funeral Director at any time.