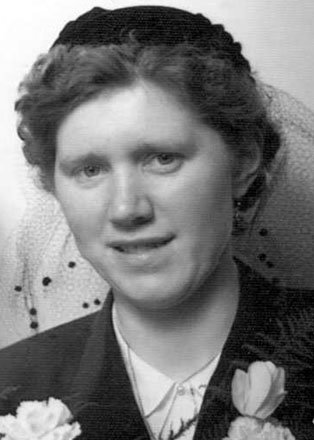 Obituary of Antonia Van den Eynden
Antonia Maria Cornelia Van den Eynden (nee Van Brussel), Abercrombie NS, took her leave on March 2, 2021. She was 94. Even at the end of her life, she was a beautiful force, one to be reckoned with. There is much to honour and share about our Mom/Nannie/Oma, but only space for the highlights here. Mom immigrated with Dad (Antonious) from the Netherlands in 1953, making Nova Scotia and Canada their new home. She was married to the love of her life for over 65 years. Dad died in 2019. Mom felt that loss but stayed strong since his passing. Antonia and Antonious were quite a pair and left a legacy they were proud of. To capture thoughts about our family's loss, some questions were asked and answered. We now share some with you. For those that know her you might say "yup" sounds like! For others, you will get a sense of what she meant to her family. Here goes: #1. What is your favorite memory of mom? Mom growing and nurturing all things human, animal and plant (especially flowers). Her food, and oh, her beautiful bread and soup. Always offering a haven for family/those in need. Her love of words and music. She was the best card playing partner one could hope for. And although English was not her first language, she held the family scrabble championship. And there is…standing in the rain, in those purple slacks, washing her hair. #2 What life lesson did she teach? Speak your mind - truth to power matters. Be independent. Work hard. Do not waste anything. Donate to those in need. Grow things. Do not discriminate. #3 What words describe her personality? Outspoken, yet sometimes shy. Head strong. Determined. Stubborn and temperamental by times. Artistic. Quick witted. In charge. Loving. Protective. Maybe hard at times but always with very soft edges. True to her Dutch roots she was hardworking and demanded no less from others. #4 When was she joyful? With Dad and family. In nature. Growing things. Knitting. Listening to music, reading, and creating. Mom was an early riser…she loved sunrise. #5 What were her favorite stories about her homeland? Mom (and Dad) lived through war. Mom's family were farmers. They harboured those under threat, at risk to themselves. They fed soldiers and others who were hungry. Mom knitted warm things for soldiers. (FYI … She continued to knit and donate her stuff until about a week before her passing.) Mom often spoke of the brave sacrifices Canadian soldiers made and how freedom is to be appreciated. On a lighter note, she also loved working with horses with her own father, who was an exceptional horse person. One favourite story was how she met and fell in love with Dad. #6 What was her favorite music? Dutch violinist Andre Rieu and all things classical. She listened to The Monkeys, The Beatles, Elvis, and Marty Robbins to mention a few. But best was the sound of nature …the winds, trees, birds. #7 Favorite Momisms? I rule the roost. My house my rules. Eat for the hunger that comes. Stop before you drop. Stop and smell the roses. Eat well. Dirty dishes cannot walk upstairs. My house is clean enough to be healthy but dirty enough to be happy. And a favorite…time will tell. #8 How will we honour her memory? Restore her bicycle she brought over from Holland and rode well into her 80's. Restore her sewing machine. Grow lots. Volunteer and donate to those in need. Read lots and care for your books. No dog ears allowed. Take care of animals and nature. Write more letters. #9 What reminds us of her when we walk into our family home? "Lise's Cupboard" (old cabinet from her beloved Dutch friend, filled with stuff to root through); Mom's original paintings especially the one of Gary waiting for the school bus, and one of Chris's house; The chair she knit in; Her huge collection of dolls; And her many collections of other fine things. The worn-down cracks on the edges of her very old dining table. #10 What we loved most about her? Her independent spirit. Her artistry and love of reading and music. Her love of food and feeding us and our friends. Her love of nature. Her preservation of history. How she kept a home for us until her last day. Hope this gives a sense of our matriarch and why Dad and all of us loved her so deeply. Rest well Antonia. Love your children; Martin, Anthony (Charmaine), Christine (Eugene), Anne-Marie, Elizabeth (Rob), Gary and your late son John (Cathy); your grandchildren, Shawn, Jacob, Jeremy, Trevor, Tiffany, Whitney, Ryan and Emily and their Mom Kim; and, your Netherland family. If you wish to honour her memory, plant something this spring. Donate to a charity of your choice or an animal shelter. Or just make something for someone or help out. Our Mom would appreciate that! Cremation has taken place. We will have a family service in the spring when things are green and flowers start to bloom. In case you might like to see some photos watch her tribute video.
Share Your Memory of
Antonia
eaglesfuneralhome@ns.sympatico.ca
1611 North Main St
Westville, NS

B0K 2A0


Looking for something you can't find? We make it easy to get the answers you need. Please feel free to CONTACT our professional staff for any questions or to schedule an appointment with a Funeral Director at any time.