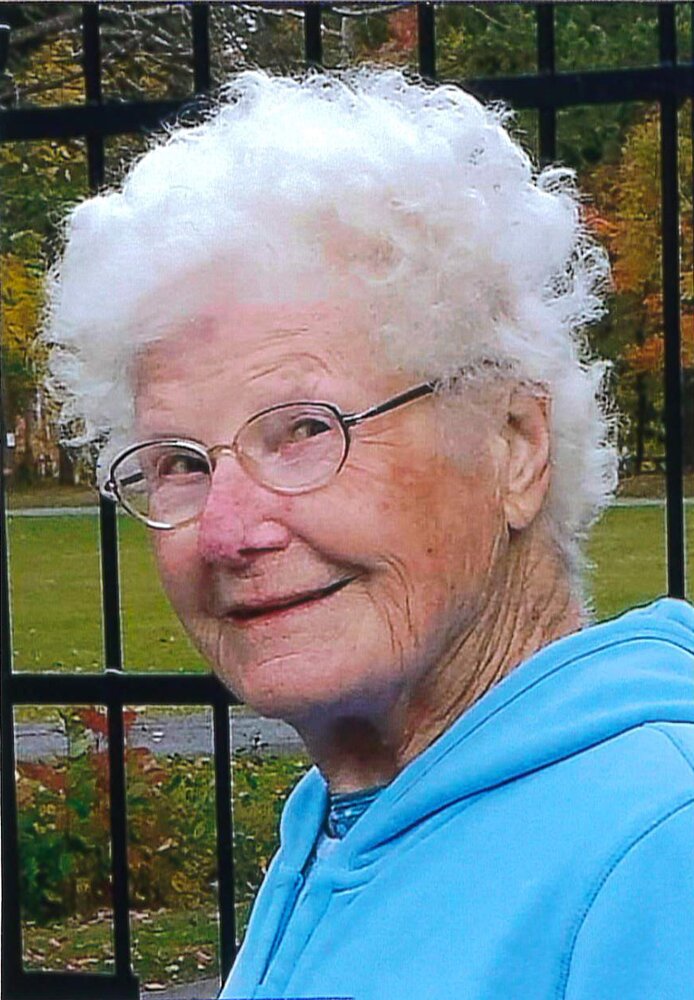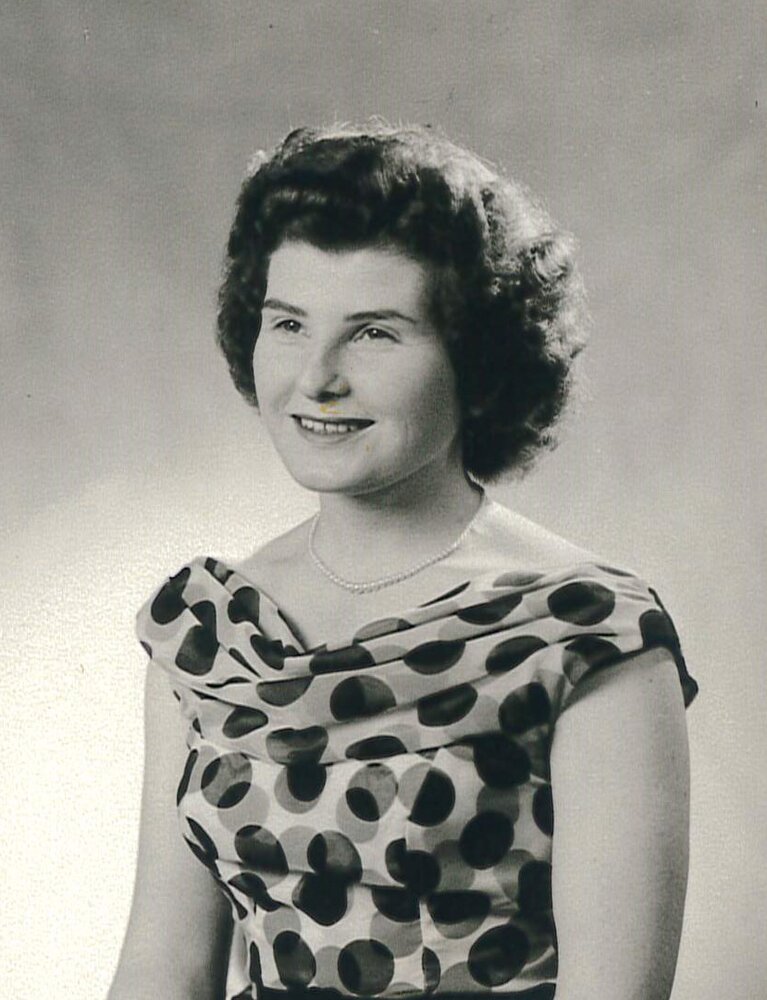 Obituary of Vesta 'Candy' Clark
It is with heavy hearts that the family of Vesta Mae 'Candy' Clark (The Trenton Park Lady), 93, announces her peaceful passing on February 8, 2022, at her home in Westville with her son Tom by her side. She was the last of her siblings. Born June 19, 1928, she was the daughter of the late Thomas and Sadie Bertha (Langille) Crooks of Trenton.

Mom was an inspiration to many. She loved life and practiced an active lifestyle every day, regardless of the weather. She lived each day with an unwavering positive outlook, a deep love of family, nature, and the Dear Lord. She was fiercely independent. She'd hop in her little red car and away she'd go. Trenton Park was one of her favourite places. She enjoyed hiking the challenging back trails up through the woods, and socializing with the people and dogs she met at the park, and in earlier times, on the Sampson Trail. Mom had a silliness and sense of humour that endeared her to old and young alike, and often shared little nuggets of wisdom about life. She made friends wherever she went. Her senior years were filled with physical activity, including long daily walks; working out at gyms such as the YMCA and Performance Macs; skating several times a week at the New Glasgow Stadium and later the Wellness Centre; attending weekly dances in either Halifax, Truro, Scotsburn, West Branch and especially at the community centre in Lorne. If good music was playing, she just couldn't sit still. She would often form a 'hug line' at the end of the dance where everyone would hug each other before leaving for home. In her earlier life she enjoyed square dancing and evening bike rides with neighbourhood friends.

At age 15, Mom started her first job on the Shell Finish line in Trenton. Later, she was employed in various jobs including at a bakery, convenience stores, Dobsons Stationers, the 'V' Filling Station, her brother-in-law Cliff Foote's White Rose Station in Linacy, and the candy counter of the Academy Theatre in New Glasgow where she became known as 'Candy'. During one of the shows, the projector broke down. When members of the audience started getting up to leave, Mom took it upon herself to get up on stage, as self-conscious as she was at that time, and entertain them by singing, yodelling and joking with them. This gave the projectionist enough time to fix the projector and the show went on. This serendipitously led to Mom becoming lead singer of a local band known as Candy MacKenzie & the Starlites for several years, beginning in the mid 1950's. The band made an appearance on a local television station in Sydney, in 1958. At that time, a TV appearance was a pretty big deal. The Starlites even cut a record featuring two original songs. Her son Tom managed to track down this record and we played it for Mom on her 70th birthday. She also sang at a Country-style jamboree every Saturday night at the Linacy Rec Hall, which was owned by her sister Muriel and husband Cliff Foote. In the early days of the Christmas Daddy Show, which aired on the local Cable 10 station, Mom would perform when a member of the listening audience made a pledge with the request that she sing. She also made singing appearances at Westville's July 1st celebrations. Shortly afterwards, Mom ran a convenience store in her home in Rifle Range, Westville with her husband Harold. For many years, she was content in her role as a homemaker. She took pride in looking after our home and cooking and baking for her family. Her biscuits were the best. Mom taught us many life lessons and made sure we all knew how much she loved us through her words and actions, and with her hugs. Anyone who has ever been wrapped in one of those hugs has felt the love that we have felt. In her early 50's Mom learned to drive, and soon after, she and her daughter Sherry trained and worked as personal care workers at Glen Haven Manor until retirement. She cared deeply for the people there.

Surviving are sons Tom, Westville; Robert (Mansong), Halifax; daughters Sherry Greene, New Glasgow; Robin (George) Murray, Alma.; former daughter-in-law Mojdeh Saberi; grandchildren Greg and Heather Greene, Connie Wilson; Matthew Murray; Nikki, Andrew, and Ethan Clark; Tim Gao; as well as 3 great-grandchildren; 31 nephews and nieces; 49 grandnephews and nieces; 42 great- grandnephews and nieces.

Besides her parents, Mom was predeceased by her sisters Kathleen 'Kaye' (Joe) Miller, Muriel "Moe" (Cliff) Foote, Cordelia Crooks (in childhood), Rose "Birdie" (Claude) MacIntosh; brother Oscar "Oc" (Helen) Crooks; half-sister Jean Jenkins; half-brother Johnnie Crooks; father-in-law and mother-in-law Arthur and Thelma Clark; brother-in-law Gray Clark; former sister-in-law Joan (Bob, Gerry) Clark-Carrigan-Pitre; son-in-law Myron Greene. She was also predeceased by former husbands Ballem MacKenzie and Harold Clark.

To our brother Tom: We cannot express enough our deepest, heartfelt gratitude for the loving, dedicated, and compassionate care you have given Mom. You were her rock.

The family wishes to thank Linda Muir and Polly Cooper for the extra special and loving in-home care they gave our mother. We would also like to thank Dr. Rivera, as well as the Halifax T.A.V.I. Heart Valve Team, the Halifax Coronary Unit, Truro Chemo Clinic, and the many others who cared for Mom during her hospital stays the last couple of years.

Our sincere thanks to her wonderful neighbours, and to all those who befriended Mom, whether at the gym, while dancing or skating, and especially during her hikes at Trenton Park; with a special shout-out to her young friend William and his mother Sarah. Mom was touched by the many acts of kindness you all have shown her over the years.

Cremation has been arranged through Eagles Funeral Home, Westville. Mom's wishes are to be laid to rest alongside her parents in Hillside Cemetery, Trenton. Anyone wishing to honour her memory is encouraged to make a donation to the 'Friends of Trenton Park Society'. Cash or cheque donations can be made in-person at Trenton Town Hall.
A Celebration of Life will be held at a later date when we can all come together again, and will be advertised in local media.
Share Your Memory of
Vesta 'Candy'
eaglesfuneralhome@ns.sympatico.ca
1611 North Main St
Westville, NS

B0K 2A0


Looking for something you can't find? We make it easy to get the answers you need. Please feel free to CONTACT our professional staff for any questions or to schedule an appointment with a Funeral Director at any time.