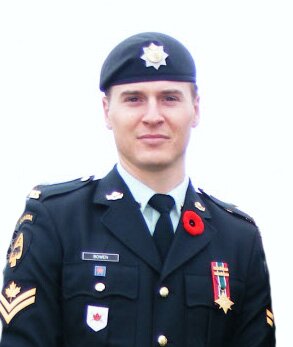 Obituary of Sergeant (Ret'd) Tyson Bowen
We are devastated to announce the death of Retired Sergeant Tyson Matthew Bowen, age 35, Lorne, Pictou County. He passed away peacefully at the Aberdeen Hospital in the early hours of September 3rd surrounded by his loving family and friends.
Tyson was born March 30th , 1987, the son of Stephen and Debbie (Samson) Bowen, New Glasgow and was a graduate of Northumberland Regional High School.
Tyson is survived by his devoted wife of 10 years Jenna (White) Bowen, and was the fun, doting, wonderful daddy of two young, beautiful daughters Amelia and Sadie, both at home. Tyson is also survived by his sisters Tanya (Steven) Browne, Fredericton; Tennille (Chris) Young, Tallinn, Estonia, maternal grandmother Amelia Samson, Petit de Grat, and his second family -- Danny and Carolyn (MacIsaac) White, Pictou and brother in law Ryan White (Amy Dauphinee). Always the 'fun uncle', he will be missed wholeheartedly by his nieces Stella and Nora, and his nephew Gordon.

Tyson began his military journey in 2005 when he joined the 1st Battalion, Nova Scotia Highlanders in Pictou, Nova Scotia. He continued to be a valued member of 2RCR 2nd Battalion Royal Canadian Regiment serving 15 years in the Canadian Armed Forces and quickly rising up the ranks from rifleman to section commander. He served two combat tours to Afghanistan in 2007 and 2010, where he fought beside his military brothers who lifted each other at the worst of times. Tyson was the rock that his comrades could lean on at any time, any place. Several years following his return, Tyson was diagnosed with PTSD like far too many of his comrades before him. While his wounds may not have been visible to most, they were deeply engrained in his memory and in his heart. As a result, Tyson's connection to the Canadian Military did not end when he was medically released in 2018, but instead his role pivoted from combat soldier to helper/supporter as the founder of Real Canadian Recreation (RCR), a veteran's retreat in Pictou County. For those who knew Tyson, you have seen his eyes twinkle when he shares the story of Real Canadian Recreation, and his vision for the over 200-acre therapeutic eco-friendly park designed as a retreat to assist the healing and empowerment of other veterans who struggle with PTSD.
Each day's work gave him a sense of purpose, with his father and sidekick Steve-O beside him, ready to take on the day.
Tyson's smiling eyes, contagious grin and laissez-faire attitude was endeared by those who knew him, and it was this charm that captured Jenna's heart. Tyson never doubted that Jenna was the one for him, and they shared a love that was strengthened with each laugh, tear, and time of silence. His "Jenna Marie" only had to look in his direction and he knew what she was thinking; their love did not need words. She was his pillar of strength, his confidant, and his biggest supporter throughout this journey. Tyson loved fiercely and would do anything for his three girls, celebrating the enjoyment that came from their time together. Amelia and Sadie adored their shared adventures with Daddy, beaming at him with joy and admiration each time he came up with a new idea – a giant slip and slide, pet goats or a buggy ride. He was their constant teacher and cheerleader, adopting a motto of "do with, not for", helping grow their confidence and independence. Tyson beamed with pride at each of their accomplishments. Both knew that the best cuddles came from him, and that one more hug was always an option; it is this bond that has filled their hearts with his love.

We are thankful for the light and love that Retired Sergeant Tyson Bowen has brought to many of his comrades and friends over the past 35 years. We have learned to count in Sundays, a trick that made tours of duty seem just a little shorter. Many have benefitted from his humble heart, his open arms and his willingness to go out of his way to help others with basic manual labour, emotional battles and everything in between. Above all, we are thankful for his heroic effort to advocate for change.

Without a doubt, Tyson was met at heaven's gate by those who predeceased him, particularly his Pépé Wilfred Samson and far too many of his military comrades and friends. He was also predeceased by paternal grandparents Alphonse and Celina (Doyle) Bowen.
Visitation will take place at Eagles Funeral Home, Westville on Thursday September 8th, 2022, 2-4pm and 7-9 pm. A Celebration of Tyson's life will be held on Friday September 9th, 2022, 3:00 pm on the grounds of Real Canadian Recreation, 3144 Trafalgar Road, Hopewell, with Rev. Dr. Glen Matheson officiating. In his memory, please consider making a donation to the Real Canadian Recreation in the hopes that some of Tyson's unfinished projects will be realized, or a charity of your choice in support of mental health and suicide prevention.
At ease, soldier. Your internal war has ended.
Share Your Memory of
Sergeant (Ret'd) Tyson
eaglesfuneralhome@ns.sympatico.ca
1611 North Main St
Westville, NS

B0K 2A0


Looking for something you can't find? We make it easy to get the answers you need. Please feel free to CONTACT our professional staff for any questions or to schedule an appointment with a Funeral Director at any time.